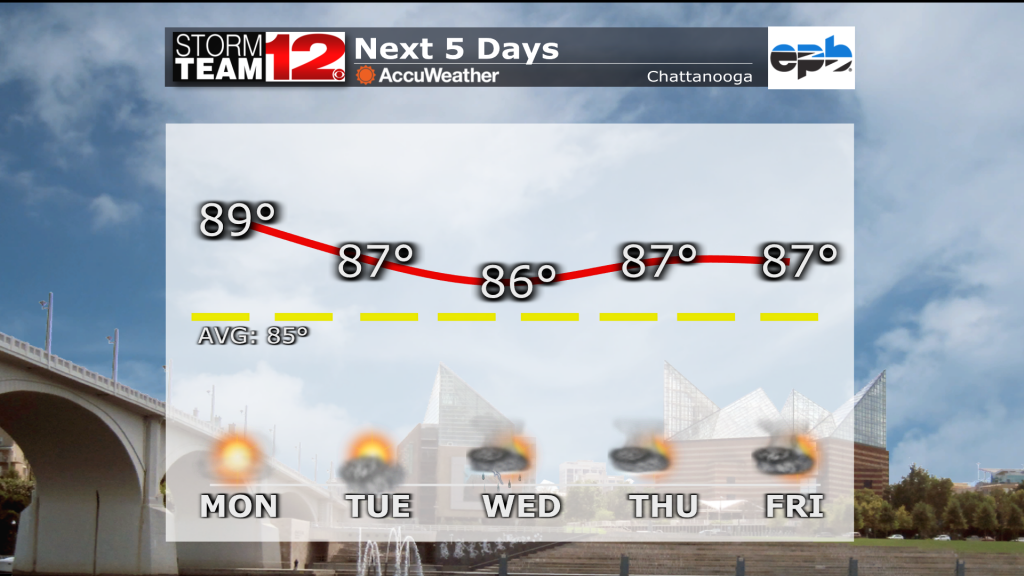 Tennessee Valley (WDEF): Heat & Humidity Return To Start Next Week
Starting off this Monday morning with some areas of patchy fog and temperatures in the mid to upper 60's. Expect mainly sunny skies for the day with highs in the upper 80's. Becoming partly cloudy Monday night and a little muggier with lows in the upper 60's.
Partly cloudy, still dry Tuesday with highs in the upper 80's. Overnight lows once again in the upper 60's.
Wednesday, an increase in clouds with a chance for an isolated t-storm. Highs will be cooler near 85. Lows near the upper 60's.
Watching for tropical moisture from the remnants of Nicholas heading into the late work week. Continued very warm and humid through the end of the week.
85 & 65 are our seasonal highs and lows.
Make sure you & your family stay in touch with us. Remember the Storm Team 12 app can always bring you the latest weather alerts for your location as well as Titan Radar. Download it for free from your app store – just search "WDEF Weather".
The post Weather Update: Monday Afternoon's Forecast – September 13th, 2021 appeared first on WDEF.