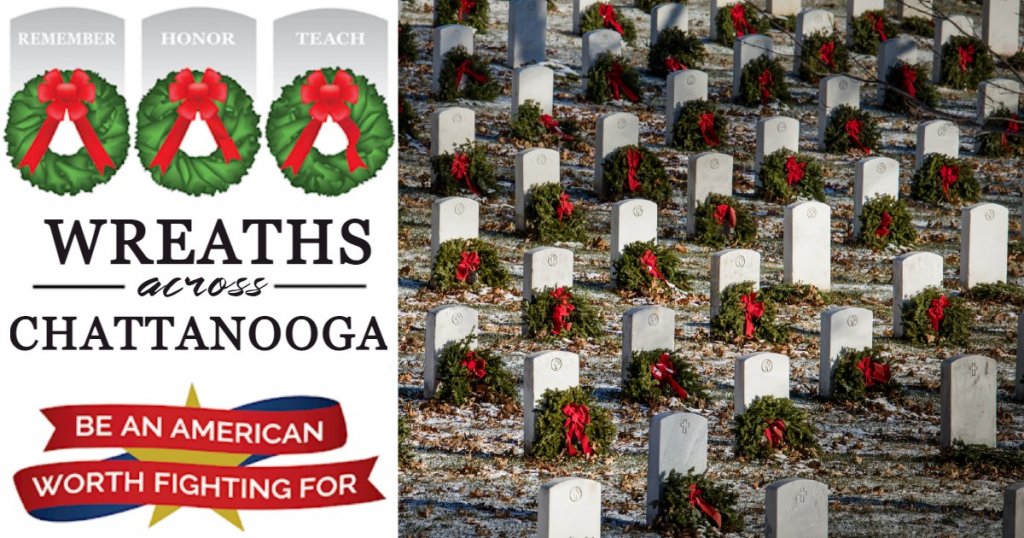 Talk 102.3 is teaming with Wreaths Across Chattanooga in an effort to cover all 48-thousand veterans' headstones at the National Cemetery with wreaths this Christmas. It's a tall order to go from the 15-thousand we had last year to the 48-thousand we need. If you can donate one or maybe two, it would make a huge difference. Help us pay tribute to our local heroes this holiday season.
Wreaths Across Chattanooga is proudly a non-profit, ensuring all sponsorship dollars go to honoring our Heroes at Chattanooga National Cemetery. Our mission is to ensure every veteran is honored with a wreath each year. We do this through various fundraising efforts throughout the year in Chattanooga. We rely on donations to cover administration costs such as website fees and printing charges (Wreaths Across Chattanooga has no paid employees). All resources of the Wreaths Across Chattanooga Committee will be directed toward raising awareness and financial support for Wreath Day at Chattanooga National Cemetery.
Will you consider donating to help cover operational costs today?
Please Note: Chattanooga National Cemetery Staff is not responsible for the Wreaths Across Chattanooga event at the cemetery.
For questions or concerns regarding Grave Specific wreaths, please contact GraveSpecific@ChattanoogaWAA.com | 423-521-5468
If you or your group would like to mail in sponsorship for wreaths for 2021, feel free to use one of these forms:
NATIONAL WREATHS ACROSS AMERICA DAY 2021!
SATURDAY DECEMBER 18, 2021
Has your loved one had a wreath purchased to honor them? Click here to see the list of 2021 Grave Specific Wreaths already purchased.