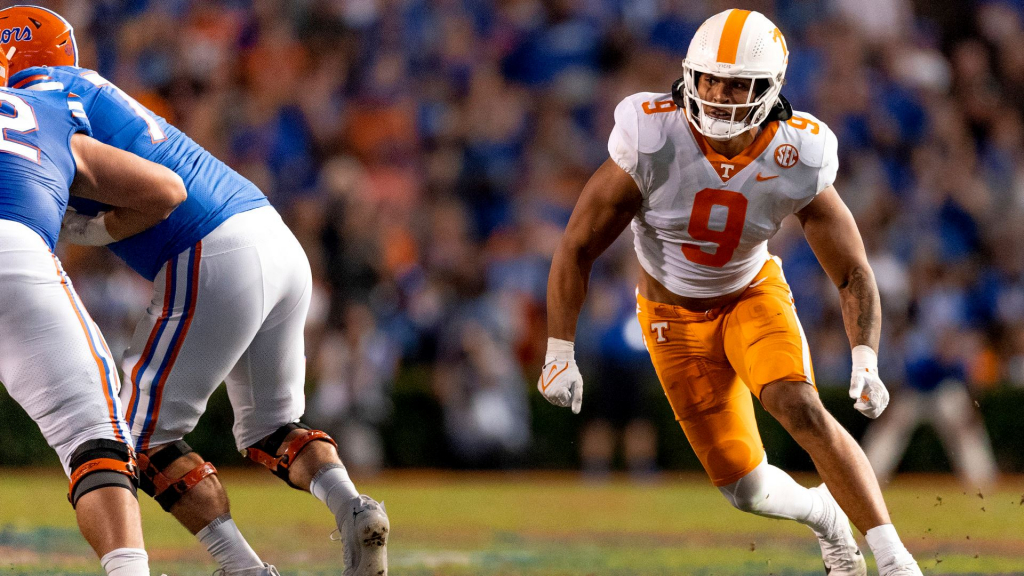 Vols Ready to Respond as Prep for Missouri Begins
via utsports.com
September 27, 2021
KNOXVILLE, Tenn. – Despite a disappointing loss to Florida last Saturday, Tennessee head coach Josh Heupel praised his team's positive attitude and great energy on Monday morning as the Vols turned their focus to a talented Missouri team this week.
"After an opportunity to review the film with the guys today, obviously the things we just pointed out are controllable by us, coaches and players alike, that need to and can be better," Heupel said during his Monday press conference. "There's an opportunity for us to continue to grow from it. The guys had a great attitude, great energy inside the building.
"We have another road test here inside the league against a quality opponent and (we're) looking forward to that opportunity to go down to Missouri and play football."
The Big Orange will look to rebound from Saturday's loss in Gainesville when they travel to Columbia this weekend to take on the Tigers. UT has won the past two meetings against Mizzou, including a 35-12 victory in Knoxville last season.
Heupel has a proven track record of getting his teams to bounce back after losses, posting a 6-1 record following a loss in that same season.
Tennessee's players have remained steadfast in the notion that the mindset of this year's team is different from those in previous years, and they are confident in the squad's ability to respond to adversity.
"We are all together – offense, defense, special teams. Everybody believes in each other," redshirt junior tight end Jacob Warren said. "We all know that a lot of the issues we are having are self-inflicted and we can change them, so it's just a matter of rallying around each other and getting better."
Heupel Full Transcript
Opening statement…
"After an opportunity to review the film with the guys today, obviously we just pointed out the things that are controllable by us, coaches and players alike, that need to and can be better. There's an opportunity for us to continue to grow from it. The guys had a great attitude and energy inside the building, anticipate that (going forward). We have another road test here inside the league against a really quality opponent, and looking forward to that opportunity to go down to Missouri and play football.

"There were multiple guys that had injuries or got nicked up during the course of the ball game the other night. Don't know where those guys are at. Hendon (Hooker) at quarterback, not sure if he'll be available or not, so we'll see how that transpires here during the course of the week and go from there."

On how healthy the roster is and where they're at numbers wise…
"I said at the beginning of the year, we're probably as thin as anybody in the country based off of pure numbers, guys on scholarship. Depth for us certainly is something we're thinking about and trying to continue to develop. Young guys have got to continue to grow and be ready to play when given the opportunity, and play at a really high level. The constant development of your roster is something that you're always thinking about, always working on. Obviously, recruiting in this cycle will be big for us too."

On the status of Joe Milton III…
"Joe was in a situation where he could play, (but) wasn't at full 100 percent. During the week, we got him some work, but not at the same type of numbers that he would've gotten if he was 100 percent. Anticipate just through him playing the other night, he didn't re-injure or aggravate anything. Continue to think that he'll get healthier as this week goes on."

On what he thinks led to the receiver drops and making sure that doesn't happen again…
"At the end of the day, you have to go execute on the field. Handle the environment, handle the competitive situation, throw and catch it; things that we've seen those individuals do at a high level. At the end of the day, we have to go perform on Saturday and finish the play."

On what he has seen on tape from Missouri RB Tyler Badie…
"For them offensively, everything kind of goes through that running back (Badie). Whether it's the run game or him being heavily involved in the pass game. A guy that's been dynamic, near the top in the country in total yards and productivity. Really good football player, does a great job once the ball is in his hands, being electric and making guys miss."

On Cooper Mays…
"(He's) tough, competitive, cares. Cares about playing at a really high level, cares about the Power T, cares about his teammates, wants to be in there. He's a warrior. As the game went on, and you watch the film, you can tell that things started to bother him more as the game wore on. He didn't want to come out. He competed extremely hard."

On the next step for Jerome Carvin as a center…
"I think the toughest thing for him is when he's starting at one spot, giving him enough reps at the next spot is difficult to manage and get what you need at both, during the course of the week and at practice. At the end of the day, some of the snaps have to be better, and that's true with Cooper (Mays) in there as well. There are times where there are plays down the football field that we're not able to connect on. Simple execution, center-quarterback snap, and some of that's the quarterback catching it too. All of those pieces have to play in together. Once he's at the center position, he's doing a great job at communicating. He's done that for the most part during the first four ball games that he's played some center, but needs to do it at a higher level."

On his thoughts on the linebacker group and how that compares to his expectations at the end of fall camp…
"I think the group as a whole, through four ball games, has done some really positive things. They played extremely hard, made plays, and have been pretty efficient tacklers. The other night, I thought we misfit a couple things on the second level. We have to continue to play smarter in that group, during the course of play and it's after the whistle too. It's a group that is deeper than where we started at the beginning of spring ball (and) certainly at the beginning of training camp. I've seen those guys continue to grow at that second level."

On opportunities to pick up chunk plays from Missouri…
"There have been some explosives in the run and the pass game against them. I think they have gotten better as time has gone on the first four weeks. Understanding their scheme, fitting things better, they are a group that has continued to improve."

On avoiding a double numbers situation on special teams…
"With Theo (Jackson), he has been our punt safe guy, which has allowed (Trevon Flowers) to be on the football field. (It was) a unique situation, not being able to see. We need him to be smart in how we communicate that, be able to transition not just the returner, but then (Trevon) needs to get out of the ball game too. It is one of those things we talked about, coaches and players together, being better to handle that situation the right way."

On whom would start at quarterback if Hendon Hooker was not available…
"I am not going to speak to situations that are not real at this point. We will see where we are at during the course of the week and go from there."

On trying to contain quarterbacks…
"Once they are out, the numbers advantage is in their favor. As a secondary player, you are caught in a dilemma of continuing to match and cover guys—which you need to do, otherwise you're going to give explosive plays. Once he crosses the line of scrimmage, you've got to do a great job coming off and making a play. It all starts by not letting them escape the pocket, that way. It could be an edge guy, it could be a pressure where we're not setting the edge, it could be interiorly not having gap control, and being able to come off and play the quarterback."

On going for fourth downs early in games to set tone and be aggressive…
"I don't know if it's tone-setting. I think each play is the play that makes a difference in a football game. You have to approach it that way. From a philosophical standpoint, I do believe in being aggressive. I believe that you want to put the ball in your players hands and allow them to make plays. Being smart with that, we use analytics at times. It's not strictly by analytics—there is a feel and a flow of the football game as well."
On what players have consistently graded out at a high level…
"There's been a bunch of guys that have graded out at a high position throughout the course of the season. We recognize guys that we call "6:40 club members," guys that competed and played the way we want to from snap to whistle. We reward guys with game balls, as far as guys that have exceptional grade-out scenarios during the course of the week. End of the year, we give them a game ball too."

On what leads to quarterbacks and receivers having miscues in the game…
"You're in a live situation, right? It's a competitive environment. Could be pressure inside that forces you to maybe not be as accurate. At the end of the day, you have to be able to throw, catch and manage all of those situations."

On the play of the safeties and how close the younger guys are getting into the mix…
"You saw Christian (Charles) in there early in the football game. Those guys are continuing to develop. They've grown on special teams, earning more reps on the defensive side of it. I thought early in the football game, defensively we did a lot of really, really positive things, tackling in space being one of them. As the game wore on, I didn't think that we tackled as well in those situations."

On defending a double-pass trick play…
"It depends on what coverage you're in, but an aggressive defense is going to fly to the football, it's a way for offenses to try to counter. End of the day, our third-level players have to see that, recognize it, and pull off."

On what he has seen from the tight ends and running backs in the run block and pass block game…
"I thought our running backs ran their hardest and performed their best during the course of the season the other night. Great pad level, did a better job of pressing the line of scrimmage. Still bounced a couple of things that I'd like to hit more vertical, but I thought they ran like a running back should run. Tight ends did a really good job for the most part in our run game; that's insertion plays on linebackers, it's split zones. I thought they managed the night pretty well."

On what players have received game balls so far…
"I don't have the list in front of me. I'll bring that with me on Thursday and give you guys some idea on that."

On JaVonta Payton's play and connecting on the deep ball…
"I said it a week ago. He's continuing to grow an understanding of what we're doing and how we're playing. He has the one play where he's not set during the course of the play, that he can operate and function in a better, cleaner way from whistle to the next snap. He has created some big plays down the football field; two weeks ago with the touchdown, last week wide open (down the sideline). He's continuing to grow and competing at a high level. Athletically, he fits what we're trying to do and I think as we continue down the season, we'll make more and more plays.

"One positive from the other night, right? We got somebody behind somebody and actually connected on it. That was a positive, huge play in the early part of the football game."

On if going for it on fourth down is decided before third down play…
"Absolutely, you're a play ahead and really more than that. Based on some of the analytics, you have an idea where your 'go' would be. That doesn't say that you're definitely going to go in that situation, but then you also are able to sequence your plays based on that. That absolutely has happened, the other night and previously."

On his conversations with Jimmy Calloway since the Florida game…
"Tough moments for multiple guys (in that game), right? Don't let a moment define you. As you move forward, you get to define those moments. Your practice habits and how you approach everything you do ends up showing up. That's a young guy that did a lot of really positive things early in training camp. You guys heard me talk about him. Missed some time, has come back, has missed some practices. At the end of the day, when you're on the field you have to play a little bit cleaner. Did some really positive things the other night, too. The things that weren't so positive, everybody can see. Continue to come back and be a great competitor and have great practice habits, that will lead to a successful moment when that moment arises."